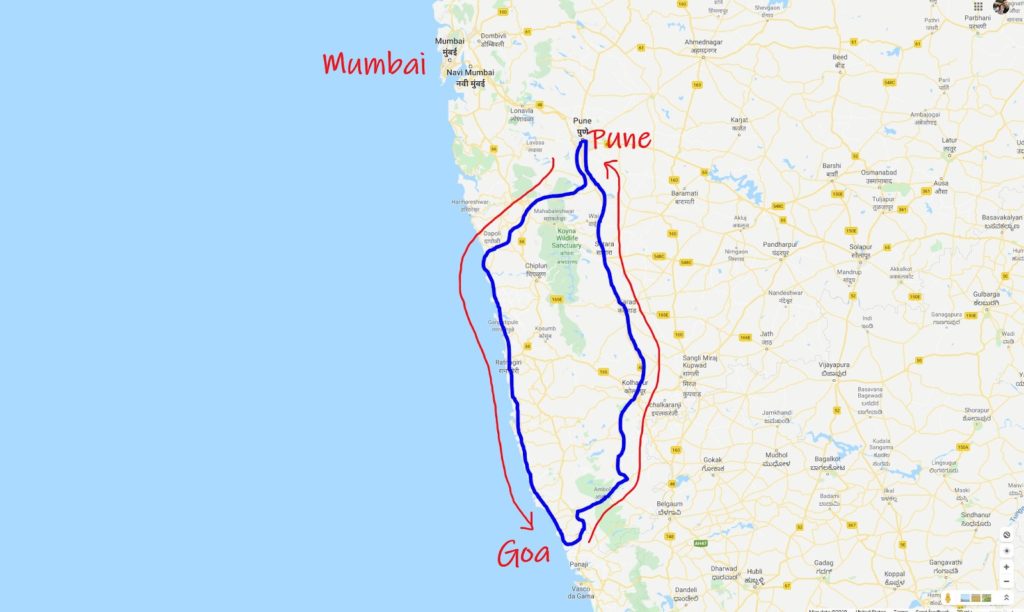 Joel Witwer said it best in one of his recent posts for the 'gram – "be careful about the friends you find and the jokes you make because you might just find yourself on a grand adventure". Joel and I met in 2015 when he was working to resurrect Rochester's monthly "Vintage Bike Night" which eventually evolved into the RocMotosocial as everyone knows it. We became fast friends and fast forward a couple years started scheming about motoadventures together. Joel's already famous as somewhat of a world traveller (40+ countries, 7 continents) and I'm "that guy in town with the Royal Enfield".

I was born and raised in India and had been following the burgeoning adventure motorcycling scene in that part of the world for some time. Growing up in India, riding on two wheels had always been more or less out of necessity, not leisure. So over the last couple of decades, as the motorcycling scene in India started to evolve from basic commuting to exotic adventuring, I naturally wanted a piece of it. Joel had India in his next-travel-conquest crosshairs and the Royal Enfield fanboy in me had always wanted to go to Ridermania in Goa, India. So it seemed natural to plan a motoadventure together around these individual interests.

For the uninitiated, RE Ridermania is a motorcycling festival of sorts or as Joel describes it: "Coachella for bikers". I'll even take it a step further and call it "Coachella meets Sturgis" (I haven't been to either but I imagine that's what the mashup would be like!). Ridermania has been sponsored and run by corporate Royal Enfield for the last decade but has its origins in a grassroots event that started in 2003. It includes three days of uninhibited motorcycling events (dirt track, flat track, custom bike builds etc.), music concerts and moto-art in the sunny state of Goa on the western coast of India by the Arabian Sea. Fun fact: the venue at Hilltop, Vagator is also the worldwide epicenter of Goa/Anjuna trance music if you're into that sorta stuff!
So last winter, after a couple of emails and Facebook messages were exchanged (Joel lives and works in Niger, Africa), we had a cunning plan – I'd cleverly time my biennial India trip to visit my mother in Pune around Ridermania 2019. Joel would fly down from Africa around the same time (November 2019) and join me on an epic, five day day ride down the western coast of India from Pune to Goa and back on what else but Royal Enfields.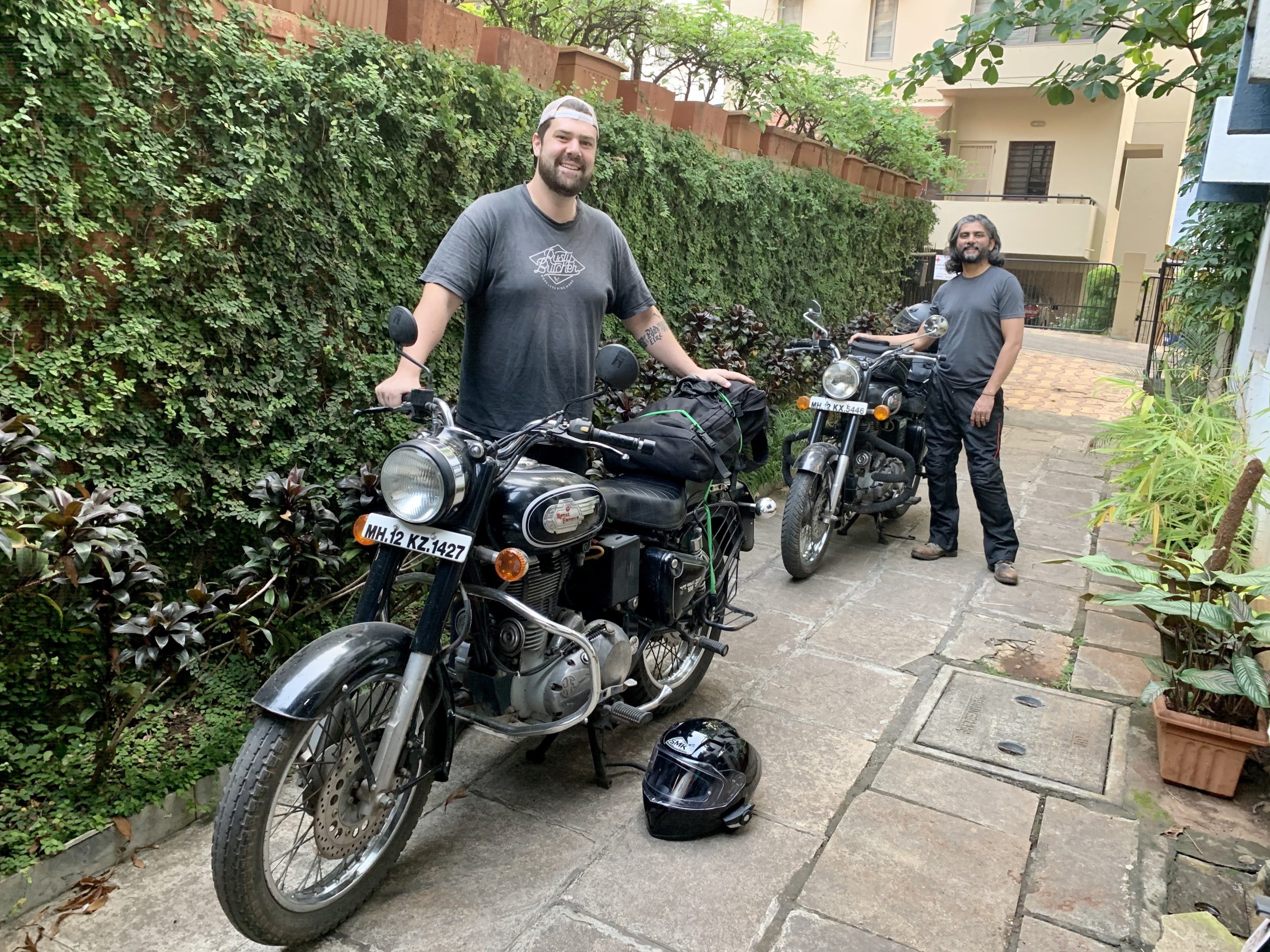 Leading up to November, I started my bike rental research online. After several phone calls and Whatsapp chats with friends and family about renting Royal Enfield motorcycles in Pune, we landed a couple of 2013-ish Bullet 500 B5 model rentals from Open Road, a local motorcycle gear store run by two brothers, JP and Gagan Singh, who I incidentally happened to share my high school alma mater with. While the Himalayan was my first choice (I own an older cast iron aka "iron barrel" Royal Enfield Bullet and a Royal Enfield Himalayan), the newer generation, UCE engine powered, EFI driven Bullet rentals performed splendidly on our little roadtrip.
We picked the bikes up midweek from across town and navigated our way back through Pune's rush hour traffic back to my mum's house. On the way home, I marveled at Joel's prowess at tackling Indian traffic for the first time on a new bike, he clearly had had enough practice in Niger where the "traffic patterns" aren't dissimilar. With the bikes sorted, we were all set for an early start the next morning. Our plan was to ride a couple of days down the longer, more rugged but scenic, coastal route from Pune to Goa, spend a couple of days there and return north via the quicker, highway route.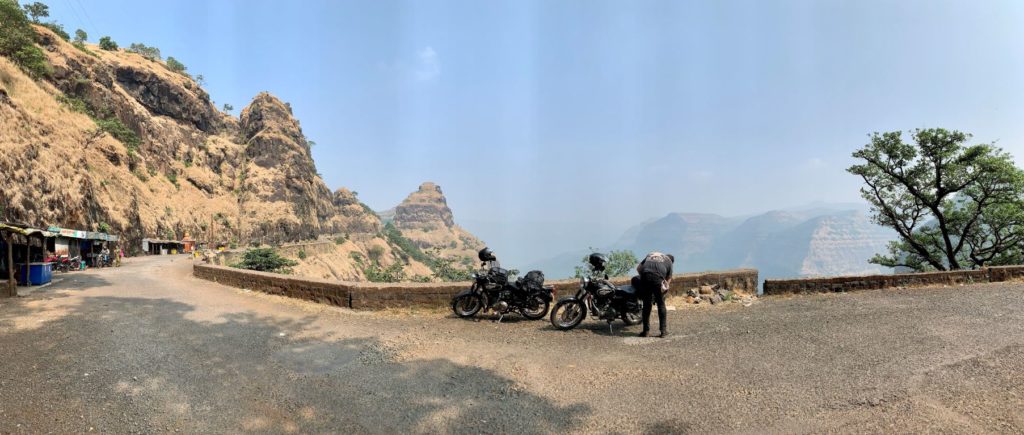 These days, online videos and articles about adventure motorcycling in India revolve mostly around the Himalayas but much like North America, the Indian subcontinent has much to offer the intrepid, two wheeled explorer in terms of diversity in terrain and environment across the entire region. The Konkan coast is a rugged section of the western coastline of India and to get to it from Pune one must cross the majestic Sahyadri mountain range through a series of mountain passes called "ghats".
A couple of hours of mountainous switchbacks in, we started to come across these massive landslides and fallen boulders on the already pothole ridden route. It turned out that the recent, unseasonably heavy October monsoon rains in the region had taken a toll on these roads. Apparently, the state highway crews had been at it for weeks trying to clear the route to allow larger vehicles to pass. This meant less cars and trucks, more open road (bad road but open road, nonetheless) for us!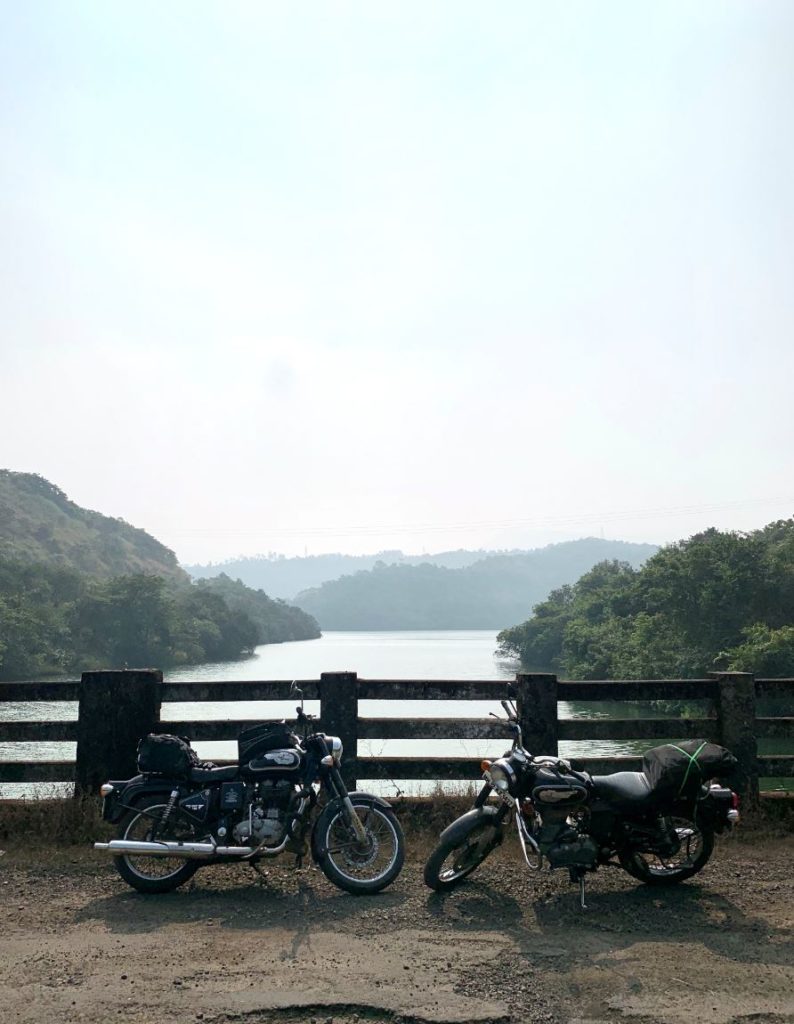 A few hours later we had made it to our first coastal ferry crossing at Dabhol…except the nice Google Maps lady incorrectly led us straight to the weekly Dabhol fish market (which was right around the corner from the ferry so NBD!). What self respecting "biker" hasn't had a run in with the authorities, so here's a little story about ours. A bunch of fishing boats had just returned from a few days at sea and the local fishmongers were crowding around what seemed like one big fish auction. Naturally we swung into action and whipped our cameras out to document the spectacle. Now this scene of two unknown, unkempt dudes on motorcycles, one foreign and one bearded, dressed in black with black bags and cameras walking around incoming fishing boats was just enough to rouse suspicion. It wasn't long before a gentleman walked up to me and sternly asked for ID. As I began to explain our intentions, a van with uniformed police officers swooped in near us. Turns out the Coast Guard and local police were conducting an anti-terrorism security exercise and we'd caught their attention. Breaking out my best Hindi and Marathi over the next ten minutes, I somehow managed to convince them we were harmless but not before our passports had been photographed in detail. Needless to say, we booked it out of there right after!

Another nighttime ferry ride later, we were ready to end our twelve hour day and managed to find a place to spend the night in Ganpatipule…turns out it was a simple but nice enough beachfront property steps away from the Arabian sea. We were officially on the Konkan coast!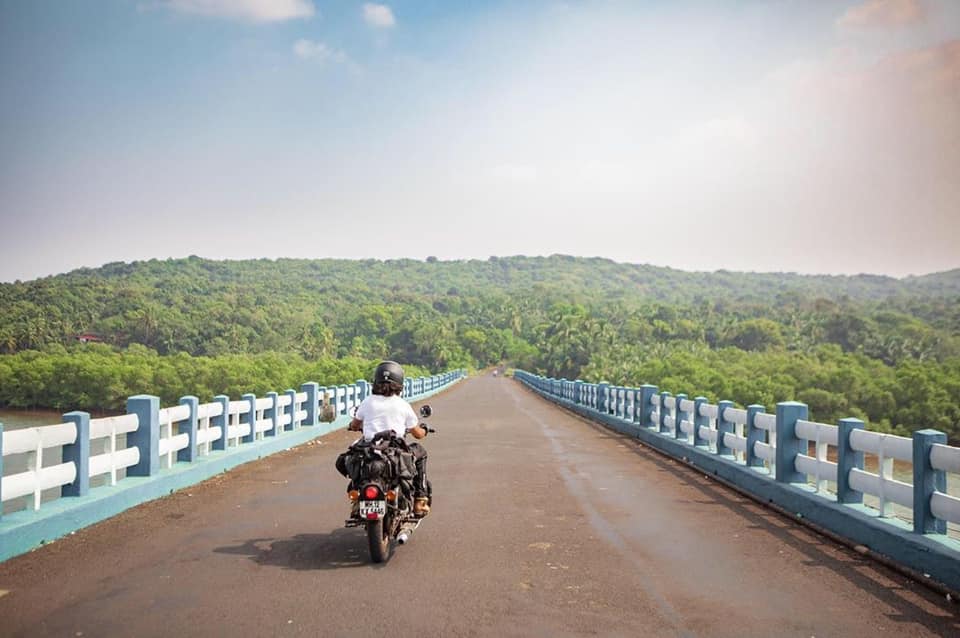 We expected Day 2 to be a bit shorter than the previous and it turned out to also be the best day of riding, a lot of it right along the coastline. Once again, Joel on Day 2: "We started out along a high, flat plateau before coasting down some fun switchbacks that took us down to a bridge crossing a river emptying into the Arabian Sea. After the bridge, was another set of switchbacks taking us uphill to a plateau which we cruised across until we reached the next switchbacks taking us down to a bridge. And repeat for about 10 hours."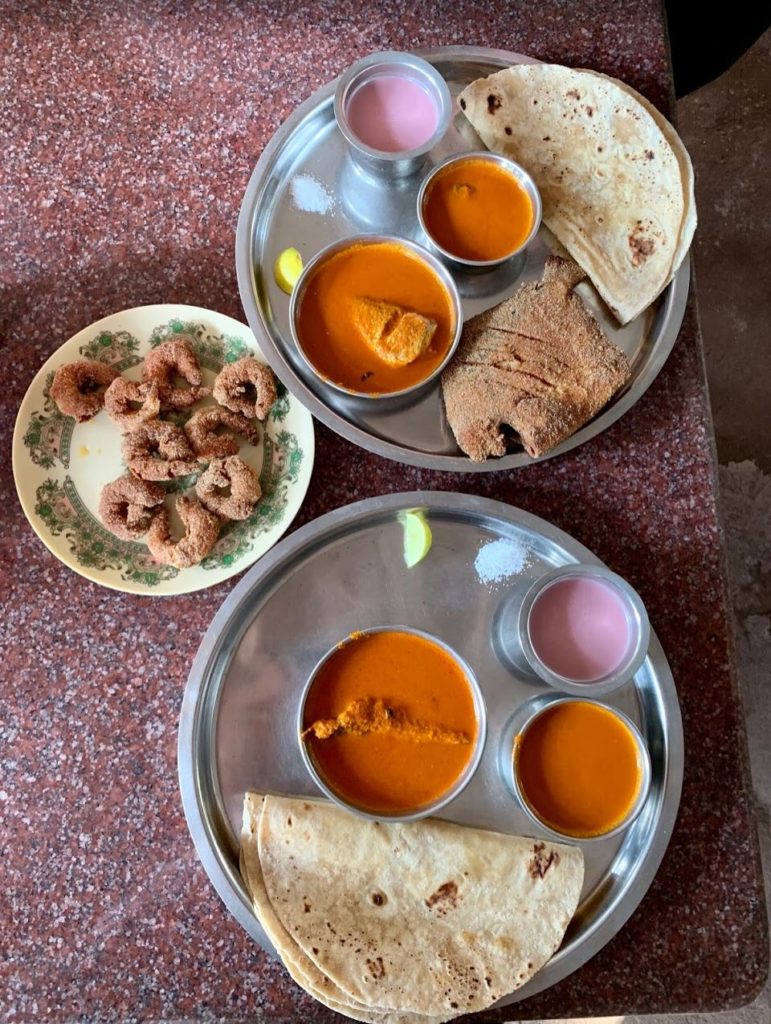 By now, we'd gotten into another rhythm, taking breaks along roadside shacks and restaurants for a chai/lunch stop before either of us turned uncontrollably hangry. I was enjoying introducing Joel to new types of roadside Indian street food (thalis, dosas, vada pav, poha) and he seemed to enjoy taking it all in. The weather stayed expectedly hot and humid but bearable and not extreme. We rolled through our hostel gates in Goa by late evening, exhausted but happy from a day well spent.

The next morning, after a hearty breakfast at Kumar's on Vagator beach, we made a short detour to Royal Enfield's flagship Garage Cafe to marvel at an original 1939 WW2 Flying Flea, still in its drop cage. This was an early war-time Enfield model light enough to be parachuted down to the battlefield during World War II. The rest of the day was spent taking in Ridermania in all its glory. A few highlights:
Multiple classes of dirt track races on modified Royal Enfields,
Flat track demo by the pros on the FT411, a flat track ready version of the Himalayan
Custom Royal Enfield builds by some of the best custom bike builders in India
Live music featuring The Local Train, one of my favorite Hindi rock acts
The positive energy, camaraderie and spirit that surfaces when thousands of motorcycling enthusiasts (minus a few jerks) congregate in one place.
#LeaveEveryPlaceBetter, Royal Enfield's environment friendly theme for the festival complete with water filling stations and free reusable flasks for all festival goers.
Ridermania experienced, it was finally time to head back to the hostel and recuperate before the long ride home the next day. An early morning sightseeing visit to Chapora (a Portuguese fort from the 1600s) and a quick breakfast at the Garage Cafe later, we were on the road headed north toward National Highway 48 (NH48). Before hitting the northbound highway, we had one last riding highlight left to experience – crossing the Sahyadri mountain range via Amboli Ghat, another set of circuitous switchbacks through a lush green mountain pass. Including an overnight stop at Kolhapur, the rest of the ride home was pretty uneventful leaving us some moments to replay the last few days in our heads. Two feelings that kept surfacing on the ride home – gratitude and perspective. Gratitude for this experience and everything that made it what it was – the weather, the motorcycles and the countryside but more importantly the companionship, my health and the time away from work and family to focus on this one goal I had set for myself a year ago. And perspective from observations and interactions with people and ways of life that I know will guide and enrich my own, halfway across the world for years to come.
"Wherever you go becomes a part of you somehow." – Anita Desai